BROTHY MEALS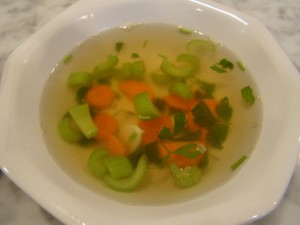 Once you've made a nice pot of stock, here are some ideas for filling, broth-based meals.
CHICKEN BREASTS POACHED IN GINGER BROTH WITH RICE
Poach a couple of boneless, skinless chicken breasts in a quart or two of stock infused with gratings of fresh ginger, a star anise or perhaps a stalk of lemongrass and some slices of garlic. Add some green beans or sugar snaps and cooked brown rice to the broth and slice the breast meat into strips.
FENNEL STEW
Cut a couple of bulbs of fennel into thick slices and sauté in some butter and olive oil. When brown and caramelized, remove them to a pot of stock. Next sauté some crescent moons of red onion, or perhaps some pearl onions, and add them to the pot of stock along with some matchsticks of carrots, some quartered radishes and maybe some frozen peas if you have a bag lurking in your freezer. Add a good amount fresh, finely chopped tarragon and parsley, and salt and pepper to taste. Simmer the stew for about 20 minutes.
VIETNAMESE BEEF SOUP
Infuse some beef stock with chopped onion, garlic, lemongrass, fish sauce, soy sauce, a couple of cloves and a star anise. Simmer for 10 minutes and then strain. Add some brown rice noodles, and then drop in some thin slices of beef tenderloin (I buy the tip end, which is cheaper) and maybe some chopped bok choy into the hot broth. Cook ever so briefly. Scatter cilantro/corriander leaves, bean sprouts, scallions and chopped red chili atop the beef in its pool of broth. Serve with lime wedges.
Or use your stock in your favorite recipe for Mushroom Barley Stew, Chicken Noodle Soup, Pot au Feu, Clams or Mussels in broth, Minestrone, etc…
VEGAN STOCK
Handful clean leek tops
1 turnip, cut up
2 celery stalks
2 carrots
Handful of peppercorns 1 bay leaf
Put all the ingredients into a large stock pot and cover with water. Bring to a boil, reduce heat (skim if necessary) and simmer very gently for 30 to 40 minutes. Strain, cool to room temperature, chill in the fridge and use within two days or freeze.