Garnish Away!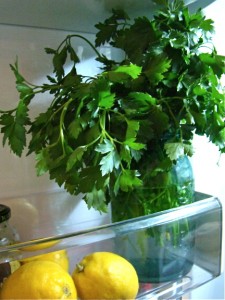 I was shocked, shocked recently to hear a friend say that she never buys parsley — "Why bother,it's just for garnish." Quel blasphème! She might as well have told me that you don't need a little black dress in your closet. Without parsley, my fridge feels positively naked. Parsley is much, much more than a garnish. It is rich in Vitamins A, K*and C, as well as a good source of iron and folic acid. In fact, a cup of parsley has more iron than a cup of raw spinach and almost as much Vitamin C as an orange. It is nature's own breath freshener and a delicious and healthy ingredient as the main star of many meals.
The bright herbaceous taste of parsley makes everyone happy — not as bitter as your bitter greens nor as outrageously summer-scented as basil, parsley adds both nutrition and taste to a meal. Tabbouleh, the eastern Mediterranean salad of cracked wheat (aka bulgur) and parsley is the most famous parsley-centered dish. (Here's a link to my friend Jane Logan's Parsley-Pomegranate Tabbouleh recipe.) Sometimes I substitute quinoa for the traditional bulgar.
Don't stop at Tabbouleh, though. There are many ways to incorporate this delicious herb into your menu: the soup that got me throughthe first week of motherhood is a simple combination of masses of parsley, leeks, potatoes and chicken broth, blended to a velvety green cup of comforting goodness.
Speaking of mothers, mine always chopped her parsley with this peculiar looking gadget,
which really pulverized the parsley rather than chopping it. Every night she used it to add generous doses of pulverized parsley to the salad of Boston lettuce or the steamed new potatoes which she served with butter and lemon. Our tomato salad was served with a sophisticated consort of finely chopped parsley and shallots, salt and some good olive oil.
From my mother-in-law and sister-in-law I've learned to stuff artichokes with a simple mixture of parsley, breadcrumbs, garlic and grated Pecorino. I'm using that same mixture to top the fish I'm throwing in the oven for tonight's supper.
Often parsley finishes a dish — a Tagine without a hefty sprinkling of parsley and mint is soggy and sweet, Osso Bucco without its parsley and lemon zest-based Gremolata is just another hunk o' braised meat. I like folding masses of finely chopped parsley into mashed potatoes, baking fish in parchment on a bed of parsley stems, and stirring a confetti of parsley into lentils, white beans and risotto.
Currently I'm enamored of Chimichurri sauce, a piquant Argentine sauce made of parsley, vinegar, olive oil and a few other additions (see below for my take on this famous recipe). Chimichurri sauce is great with steak, but is also a tasty complement to fish, chicken, boiled potatoes, eggplant, tomatoes or zucchini, when spread on a sandwich, or when used as the flavoring of a white bean dip. If you, like me, are so past pesto, then its time you turned to the bright green liveliness of this nutritious, parsley-based sauce, which you can throw together in about two minutes in a food processor or blender.
The other day, during an Old Mother Hubbard moment, I happily discovered some left over Chimichurri, a can of chickpeas and a smidgeon of Greek yogurt in the otherwise bare larder. I whizzed it all together in the food processor and heated it up. Presto — an earthy rich soup that was also bright and tasty from all the parsley and shallots in the Chimichurri. Crisis averted; parsley to the rescue!
* SO WHAT IS Vitamin K and what does it do?  Most people know that we need Vitamin K to help our blood to clot… so if you are on anti-coagulants, you may need to think about your Vitamin K intake. Less well known is the fact that Vitamin K helps to anchor calcium in the bone (listen up, bone density worriers!) There is increasing evidence that Vitamin K is an important tool in the battle against osteoporosis.
Katy's Version of Chimichurri
The shallot is not strictly echt, but adds a nice note, I think…
Roughly 4 cups parsley leaves and stems (one large bunch)
1 large shallot or 2 small ones
1 garlic clove, smashed**
Large pinch red pepper flakes
1 tablespoon red wine vinegar
Juice of 1/2 a lemon
Sea salt
1/2 cup extra virgin olive oil, plus more to taste
Water as needed to thin
** Smash the garlic clove before putting it into the food processor; if you put it in whole, the resulting taste will be too harsh.
Throw the parsley, shallot, smashed garlic clove and red pepper
flakes into your food processor and give them a whirl. Add the vinegar,
lemon juice and olive oil and process again. Add water as needed to thin.
Yield: 1 cup.