Head-to-Tail Cooking, Vegetarian Style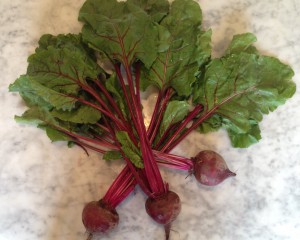 Head-to-tail eating has been all the rage for a few years now.  Chefs such as Fergus Henderson of St. John in London and his compatriot Hugh Fearnsley Whittingstall brought this concept — eating the entire animal, head to tail, so that nothing is wasted — back into style.  American chefs are also exploring this sustainable approach to cooking meat.  Preparing and enjoying food this way makes sense for many reasons: less waste, more nutrients, more mindful use of resources and a greater connection with our ingredients.  
I think we should be bringing this idea to the vegetable world. Why throw away the skins, or the green tops of the beautiful vegetables we find at the farmers' market, not to mention the vegetables we have nurtured in the garden?  I'm not saying we should be eating banana peels, but I am offering up three ways to use more of the whole vegetable.
1)  Sauté it now.  This works well for the stems and leafy green tops of beets, turnips and kohlrabi.   Before you have your way with the root end, trim off the greens, give them a good swish in a basin of cold water and sauté them, with a splash of water, olive oil and garlic.  You can hold these cooked greens in the fridge for a few days — ready to pull out and top with something exotic like crumbles of gorgonzola and toasted almonds, or maybe something simple like a fried egg or vinaigrette.  Alternatively, serve them as a savory green bed for their roasted root counterparts. Sometimes I slip sautéed greens into a bowl of broth for a quick, delicious and nutritious meal.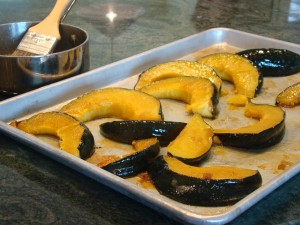 2) Roast 'em with their skins on.  Why stop at potato skins?  How about roasting your winter squash with the skins on?  Cooking students of mine often say they are reluctant to cook squash because it is a pain to peel.  So don't peel it!  I routinely eat the roasted skin of butternut, acorn and delicata squash.  True, some squashes have tougher skins than others — pumpkins, for example –but many squash skins are edible, and are an excellent source of fiber and nutrients.  Don't forget to roast the seeds to scatter over salads, soups or just to eat as a snack.
3) Make stock.  Some of those peelings, leaves and stalks that you are putting in your compost bin (you do have a compost bin, right?) can be put to use in stocks.  I have a bag in my freezer that contains leek tops, parsley bottoms, carrot peelings, mushroom stalks, turnip skins, etc.  Once a month, I make up a delicious vegan stock from all these cast-off vegetable bits. (For how to make stock, click here.)  Only when I have poured the resulting broth through the sieve do I send the remaining trimmings to the compost.
If stock seems like too much trouble, a quick and simple soup can often make use of exotic vegetable greens. A dear friend living in Normandy recently sent me her local farmer's recipe for a soup made from radish greens.  Her children love this soup!  I've adapted the recipe a bit, as follows.  Eat the pretty pink and purple radish orbs raw or roasted, but save the über-nutritious greens for this soup.  Honestly, it tastes like the essence of spring, and who doesn't need some of that after the winter we have just had?  Bon Appetit!
French Farmer's Radish-Top Soup
By Katy Kinsolving Published: March 29, 2014
Yield:

8 cups (4 Servings)

Prep:

10 mins

Cook:

20 mins

Ready In:

45 mins
Head-to-tail eating has been all the rage for a few years now.  Chefs such as Fergus Henderson of St. John in London and his …
Ingredients
2 tablespoons

butter or olive oil

2

leeks, tender white part and a bit of the green

rinsed and chopped

4 cups, loosely packed (from two large bunches)

radish greens

rinsed

5 cups

chicken or vegetable stock

1/2 cup

creme fraiche or cream
Instructions
Heat the butter or olive oil in a heavy bottomed soup pot over medium heat. Add the leeks and sauté until wilted and soft. Stir in the radish greens and gently combine until wilted.

Add the stock and bring to a gentle boil, reduce heat and simmer over low heat for 15 minutes. Whizz in a food processor (you may need to do this in batches) or with an immersion blender. Season with salt and pepper.

Whisk in the creme fraiche or heavy cream. Allow to sit for 15 minutes, if you have time. Sitting time always helps a soup to mellow. Serve.