Personal Cooking Classes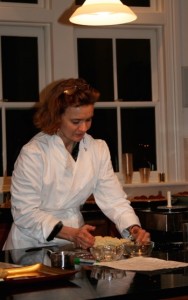 I offer my cooking classes in your own kitchen — after all, that is where you do your cooking, so it makes sense to learn how to cook right there. Together, we can master your dodgy oven, figure out the best use of limited counter space and otherwise make you more efficient and comfortable in your kitchen.
For a standard cooking lesson, you and I first figure out what you would like to learn to cook, and then I create a menu that covers your interests. On the day of class, I'll show up with all the ingredients and any specialty equipment we might need. Classes are typically three hours. In addition to what you learn, you will be left with a recipe booklet containing your recipes and the meal or side dishes we create. Classes begin at $250, plus the cost of ingredients.
Some clients like to learn with a friend or two. Others go all the way, and host cooking parties for up to 10 people in their kitchen. I charge $50 for each additional person. Otherwise, the basic game plan is the same.
To find out more about a personalized cooking class in your own kitchen or a cooking party with friends, send an email to me at katy@goodfoodnaturally.com .   Both of these services are currently offered in central New Jersey.