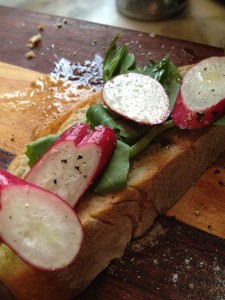 I had seen straw hats bobbing about town.  I had glimpsed some brave souls in white trousers.  I had spied some beautiful pedicured be-sandaled feet.  And yes, the birds were singing and the azaleas were popping but I wasn't convinced that summer had arrived until Thursday.   Thursday was the first day of the Princeton Farmers' Market.  Phew!  Summer is finally here.
To celebrate here's a simple farmers' market lunch: sliced radishes and pea shoots from Chickadee Creek Farm on a slice of  pain au levain from Terra Momo Bread Company, drizzled with olive oil or perhaps even slathered with some wonderful small-batch butter from Valley Shepherd Creamery.  I add a bit of Maldon sea salt and freshly ground pepper. The bright pink radishes are a perfect complement to the pea shoots which taste sweet, like peas.  But bread you say?  Aren't you always railing against us eating too much white bread?  Well, yes, but everything in moderation, and the slowly fermented pain au levain is a perfect base for this summer open-faced sandwich. Local. Seasonal. Fresh. Delicious.
For those of you who remain unconvinced about radishes  — too peppery, too crunchy, too raw —  feel free to sauté or roast them to mute the peppery, crunchy rawness.  Sometimes I grate fresh radishes and toss them with orange slices, olives and mint.  Pea shoots can be added to a salad, or the next stir fry you make.   Get to your nearest Farmers' Market and start experimenting!   Here is a website that can help you find the market closest to you.  The Princeton Farmers' Market operates Thursdays from 11 am to 4 pm, Hinds Plaza.  See you there!